Last week, the whole family came down with illness.  I won't go into detail, but this illness prevented me from absorbing or retaining any calories.  Which is nice to kick-start a diet I guess, but terrible when you are breastfeeding.  I NEED all the calories I can get, and being ill and dehydrated on the couch can really impact a girl's milk supply.
Fortunately, I bounced back in a day or so, but my milk was noticeably less than what it had been.  I honestly started to panic just a bit because I'd never had to play milk catch-up with Tyler.  I texted my neighbor Leigh, who is fabulous and a mom and knows all the non-medical/crunchy/Boulderite things to do to help with such an issue.  Of course, she immediately texted me back suggesting Mother's Milk Tea (which is nasty, in case you've never tried it) and fenugreek pills.  But also, The List of holy foods to eat to increase your milk supply.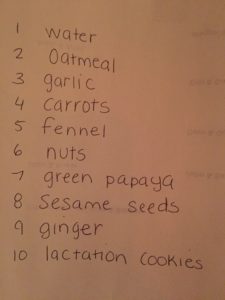 Water, oatmeal, easy.  No nuts for me (allergic).  Fennel?  I just saw a Food Network guru using fennel (OK fine it was Rachael Ray) and thought, hey, I should really get into fennel. It's definitely one of those foods that when I come to it in a recipe, I just turn the page. You know, one of those items that other people apparently stock but I just never have, so I'm unfamiliar with it, like fish sauce, gochujang, leeks, or amaranth.
I decided to make a soup with fennel, carrots, garlic, and ginger.  It's not a true refrigerator surprise since I did have to buy the fennel, ginger, and carrots (I wanted real carrots, not the flavorless midgets I buy for Eric's lunches).  But I really did just make it up as I went along and it turned out amazing!  I served it for lunch when my friend Jeana came up to visit since she's a breastfeeding gal too.  She wanted the recipe, so here it is.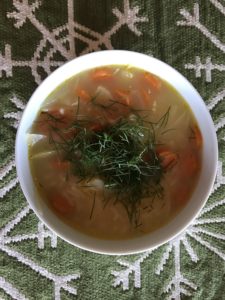 Milk Soup…It's The Tits!
1 32 oz carton chicken stock
1 fennel bulb, quartered and thinly sliced (I had to Pinterest How to Cut Fennel), save the fronds for garnish
3 medium carrots, sliced
1/2 med onion, roughly diced
2 garlic cloves (I used a garlic press)
about 2 Tbsp fresh lemon juice
fresh ginger to grate
1 Tbsp butter
olive oil
salt and pepper
Jasmine rice
First, melt butter in a stockpot on medium.  Add fennel, carrots, and onion, season with salt and pepper, and cook until carrots begin to soften.  If more liquid is needed, add a splash of olive oil.  After a few minutes, add lemon juice and pressed garlic cloves.  Cook one minute. Add chicken stock.  Allow to heat through and simmer for as long as needed. While soup simmers, I made 3/4 cup Jasmine rice in my rice cooker (so helpful for making grains at altitude!)  Shortly before serving, grate some ginger into the soup (maybe 2 tsp). Serve soup by scooping one portion of rice into a bowl, and covering with soup.  Garnish heavily with fennel fronds (Pinterest said think of them like dill.)  Makes 4 servings.
You could make this vegetarian by using vegetable stock or Paleo by omitting the rice.
My milk supply seems to be increasing, so I would say this soup is a keeper.  Salem agrees.