Tyler last got a haircut in December, right after Salem was born.  His hair grows fast and furious, and while I don't want him to be mistaken for a girl, I'm quite attached to his luscious locks.  I'm afraid if we cut them off, they won't grow back.  He won't be blonde anymore.  And worst of all, he'll look so.much.older.
But when your toddler asks for a haircut, you know it's time.
Before:
During: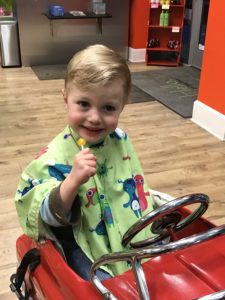 On the way home:
After:
Even more handsome, but so grown up.  Tear.