Last summer I was daydreaming about what we should do for the new baby's nursery.  We had done the nursery for Tyler in gender-neutral green, gray, and yellow, and I still loved the way it looked (and functioned).  Light-bulb moment!  Keep the nursery the same! Tyler's getting a big boy room!
I didn't have a theme in mind for his new room, only that Eric and I really wanted it to be a playroom for him as well as his bedroom.  Our house is small and we want as few toys in the living room as possible. Four months before the baby was due, Tyler turned two and we had no idea if he would still be in a crib when the baby arrived.  Two months before d-day, we realized Tyler would probably sleep in a crib until he was six if we let him.  He, to this day, has NEVER tried to escape.  I don't think the thought has ever occurred to him. So, I scored an IKEA crib for $15 and a mattress for $10 for Tyler's new room.  Eventually we'll take the side off of it but hopefully he sleeps in it as long as he fits in it, because a crib takes up way less space than a bed in his playroom/bedroom.
I found an adorable alligator duvet on PBK.com that I scooped up on clearance.  But that's all I had to go on.  My parents came out in October to "do the room" so Eric and I had to make some choices.  We He painted the room gray and installed crown moulding with my dad. (Lowe's makes a nifty kind with corner pieces that the boards pop into so you don't have to miter, FYI!) We still needed curtains and while trolling PBK.com again I saw that the toddler duvet I had purchased was on super-duper-extra clearance ($9.99!) so I bought two more and my mom transformed them into curtains.  We Eric built an IKEA dresser and BHG cube shelves from Walmart, and painted an old bookshelf white.  Eric chose the softest, most comfortable rug from Home Depot.  I organized the toys and created art for the walls.  We absolutely LOVE how the room turned out!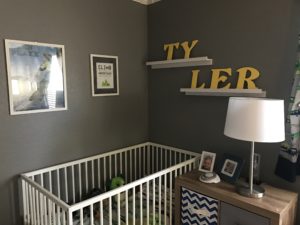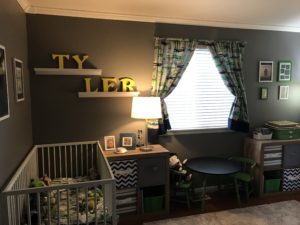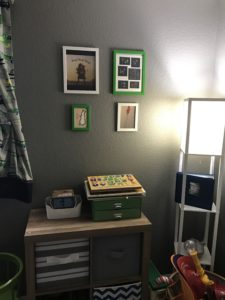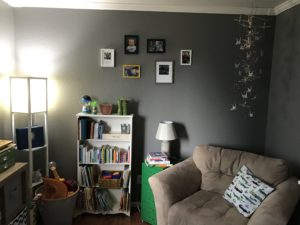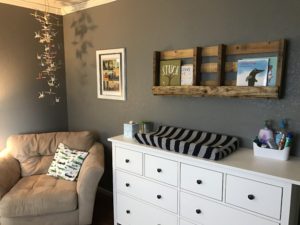 I knew if we had a girl I would add a touch of girliness to the nursery, so I painted Salem's letters pink and found a cute pink sheet at Target. Other than that, the room is pretty much the same, and we still love it.