Salem will be eleven weeks old on Friday, and I'm headed back to work on Wednesday. I'm so, so glad I was able to spend more time with her–I went back when Tyler was only seven weeks old.
I knew maternity leave would feel like a blur with the holidays and visits from family and friends, but WOW, did it go by quickly.  I had been worried about being cooped up in the house with a newborn because I had loved being able to walk and walk and walk with Tyler in the stroller in August and September (the best month of the year in Colorado!) Although we had some incredibly nice days, there were many wintry days this January.  (I don't remember December.  Between Christmas and all of Salem's crying, I just don't remember much about December.)
The first couple of cold, windy days in January I started to go crazy with Salem stuck at home.  She cried a lot for awhile there, and daytime TV is terrible.  But after a sunny patch and after Salem got just a bit older, I began to look forward to the next blustery day.  I loved spending time with this baby girl, just holding her and looking at her and really, really wondering who she would look like as she grows up.
All of a sudden she was smiling.  And cooing.  And grabbing at her toys on the playmat. She didn't need to be bounced for hours anymore.  She could sit in the Bumbo and watch her brother run and play.  What happened to my wrinkly, fragile newborn?  The one who wanted to eat every twenty minutes?  The one who fit into newborn clothes until she was nine weeks old?
She went to daycare today for the first time, for practice.  She did great.  My strong, sweet little champ who took a bottle when she was four days old and will let anyone feed it to her. She even came home in the same outfit I sent her in.  Tidy, like her brother.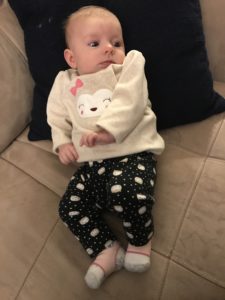 I keep telling myself I'm going back midweek for a reason–a short week, followed by two more short weeks (President's Day).  Then it's March, and Spring Break will be here before we know it.  I wish I had more time at home but summer is just around the corner (which is basically the whole point of being a teacher.)  We will settle into a new routine tomorrow, a new, temporary way of life.  Wrangling two kids is already significantly less challenging than it was a month ago.
Salem is a peach.  We love her so, so much.  Here is a look back, in lots of photos (and a few videos), at her first eleven weeks of life.  I hardly recognize this little peanut…