Today Tyler is 29 months old, so in honor of this momentous occasion I will share about Tyler's 2nd birthday, 5 months ago.  We held his party in late August because we had a variety of things going on earlier in the month, like a trip up to the mountains to hike, fish, and hang out at the pool at the Ritz.  Don't worry, we celebrated on his actual birthday, August 7th, with a donut in the minivan in the carpool lot waiting for some friends.
At the end of August my parents came to town to be here for Tyler's birthday party.  Tyler was SO excited for his Baseball Party!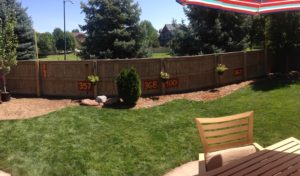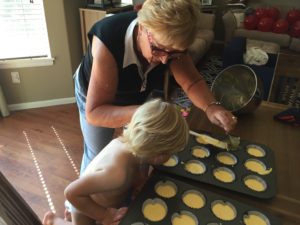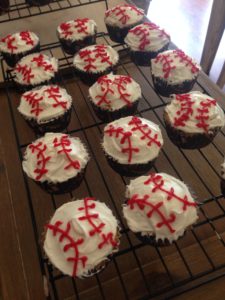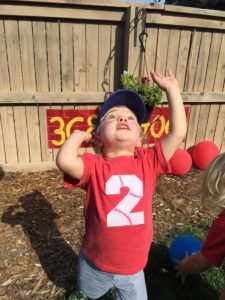 His tshirt was made especially for him by my old friend Laura, who runs the delightful Etsy shop RubyRedHandmade.  My mom had the brilliant idea to blow up a bunch of balloons for the kids to hit around, which they loved.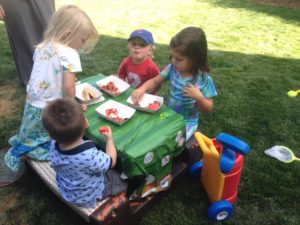 We ate ballgame food including peanuts, nachos, soft pretzels, and hot dogs with Stadium Mustard, naturally.
We asked our guests to dress in baseball gear.  It was fun to see different teams represented.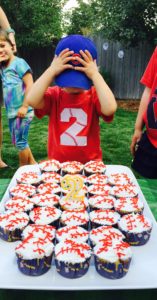 Tyler was elated to blow out his candle.  The "2" candle is from when Eric took me on a surprise getaway for my birthday when I turned 28.  He had somehow managed to sneak an entire cake into the desert on our camping trip, with "2" and "8" candles.  That may have been when I knew I should marry this guy.
Tyler is a frosting-licker.  I don't know if he's ever eaten the cake part.  (Or "sponge" as they call it on Food Network!)
Of course we played lots of baseball in our backyard!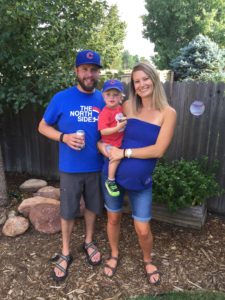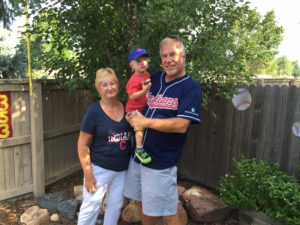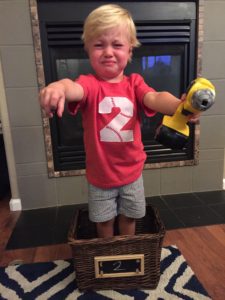 I had only taken one basket photo since Tyler turned one, when he was 18 months old.  I thought it would be fun to take them yearly from here on out–I can just see him at age 16, with one foot in and one foot out!  He wasn't too keen on the idea but as you can see, he still technically fits in the basket.
The Baseball Party was a hit and Tyler asked to have another one many, many times afterwards.  His love of baseball continues to grow.  He received a t-ball set as a gift and can literally hit balls over the fence.  He always wants to play catch in the house.  And we noticed this fall that he pitches the ball with a windup and a leg kick–we can only figure that he learned this from watching so much baseball on TV.  It's awesome and adorable.
I can't believe he's two.  The year went by so quickly.  And I still haven't even made him a photo book to remember it by.