We did it.  We brought home Baboo #2.  She's amazing.  We absolutely cannot believe we have a girl.  We thought we'd have another boy.  I put Tyler's newborn clothes in the dresser, awaiting baby boy's arrival.  I was going to be a #boymom.  I was ready for a life of baseball and bugs and stinky socks and (gladly) without Shopkins, princesses, and Justice. Yes, I know that boys can play with Shopkins and girls can have stinky socks…but still. Boys and girls ARE different.
We hardly thought about whether Tyler would be a boy or a girl.  With him, I had initially really wanted a girl, but early on we kind of just felt like the baby was a boy.  This was probably because I was huge and every person we met said it was a boy.  And he was.  And it never mattered one bit, because we would eventually/hopefully have another baby, so we just didn't think too much about it.
But this baby, our second and most, most likely final baby–I thought about whether our baby would be a boy or a girl often.  Not constantly, but often.  I didn't have a preference, really, but felt like our family dynamics would be different whether the baby was a boy or a girl.  Both good, of course, but different.  And we thought we'd have another boy.
Except for a couple of dreams I had.  I had dreams–intense, vivid dreams that I only had while trying or being pregnant…I never remember my dreams otherwise–after each round of IUI.  Three predicted I wasn't pregnant (I wasn't) and one predicted I was (I was!).  And then somewhere in the middle of this pregnancy I had two incredibly vivid dreams that the baby was a girl.  In both dreams, I was actively giving birth and the baby came out–a girl! And in both dreams, I asked the doctor to put the baby back in!  I don't know why I became subconsciously averse to having a girl.  When people asked what I thought the baby would be, I said boy and said sorry to the baby if she was, in fact, a girl.  I think we both just got so comfortable in raising Tyler that we wanted another one of him and were scared of anybody different–girl or boy.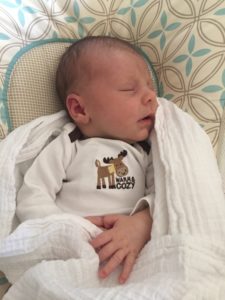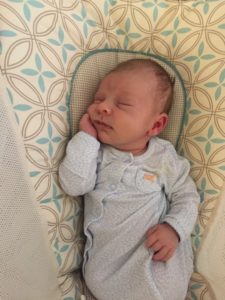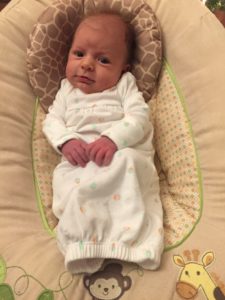 But here she is.  Beautiful, lovely, strong, amazing, perfect Salem Elizabeth.  We can't imagine life without her.  Her brother adores her and she will grow up with a family who loves her no matter what.  Even if she insists on shopping at Justice.