Way back in the spring, we wanted to tell our families we were pregnant before we blogged about it.  Obviously.  But it got complicated, because I wanted to do it in person with my parents (we had to Skype the first time around).  My mom had knee surgery in April, and it didn't go very well, making travel for my parents impossible in May.  I knew I had to fit a trip in, so Tyler (still free) and I flew to Ohio for Mother's Day.
I dressed Tyler in his blue #1 Brother shirt, and being Cleveland in May, he had to wear a fleece over it.  I was so excited for my parents to see his shirt!  I wasn't really showing yet at 12 weeks, so I knew they wouldn't notice any belly on me.  I kept Tyler zipped up until Dad drove us home, and claimed it was hot in the house so I could take Tyler's jacket off.
They didn't notice.
We ate lunch and I purposely had Mom feed him and wipe dribbles off of his shirt.
They didn't notice.
Mom claimed I was too thin and needed to put on weight.  We ate dinner together with Tyler, still in his shirt, laughing and playing in his high chair.  At bathtime, I made Mom take off Tyler's clothes.
She noticed.  "Wait," she said.  "This doesn't mean anything, does it?"
"Um, yeah!" I said.  I scolded her for being so imperceptive and blamed it on the painkillers for her knee.  She was predictably ecstatic and defended herself by saying Dad didn't notice, either.  After his bath, she put Tyler's #1 Brother shirt back on him, took him downstairs to Dad, and told him to read the shirt again.  Dad STILL didn't get it.  Mom basically had to just tell him there was another baby on the way, and he was very much in shock.  "I guess I never even offered you a beer, so I didn't notice!" he said.
I know because it'd been hard for us, they didn't have their hopes up, and they'd learned not to ask.  But that is definitely NOT the way I had pictured our "big reveal" going! Fortunately we got to spend two more days together.  Mom's spirits were up, we took Grandma out to breakfast, and Dad got to take Tyler to the zoo.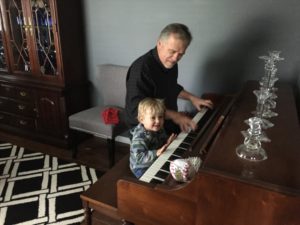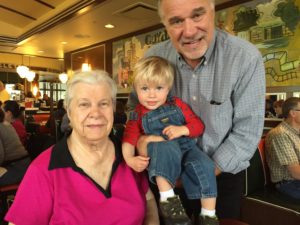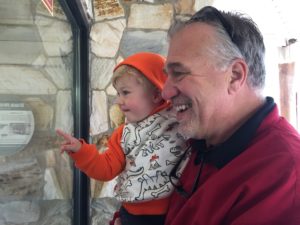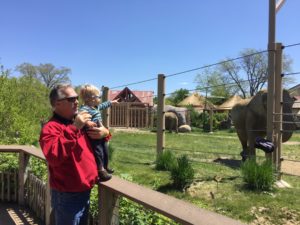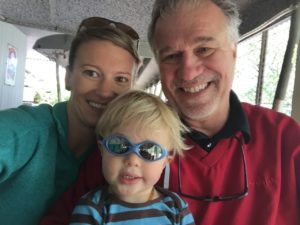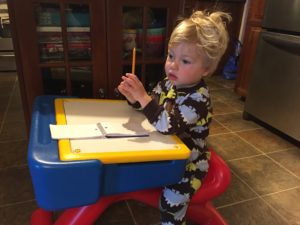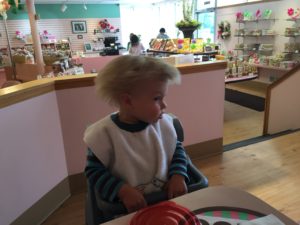 It was a quick trip home, but a memorable one.  Mom claims that "#1 Brother" doesn't necessarily mean "Big Brother" and that she thought he was just wearing a hand-me-down.  Really, Mom?  You think I'd fly across the country with my kid in some random secondhand tee shirt?  You know me better than that.  Besides, it only took Eric's parents about 6o seconds to break the "#1 Brother" code!