You may or may not recall, or may have never known, that we did fertility with Tyler, our firstborn Baboo Monkey.  You can read about his story here and here.  Many people, friends and friends-of-friends alike, contacted us with questions about the whole crazy process, and we welcomed it.  I felt like being able to somehow help others made our difficulties getting pregnant all worth it.  And in the end, doing one round of IUI to conceive Tyler was NOT that big of a deal.
Fast forward to wanting another baby.  We always knew we wanted two, or three, but definitely more than one.  Eric is only 18 months apart from his brother AND his sister, and I'm 26 months older than my brother.  Did you know to have kids 18 months apart you're actually pregnant when your baby is about EIGHT MONTHS old?  Reality check!
We went to the fertility clinic in April of 2015, when Tyler was about 8 months old.  We were told we couldn't proceed with any treatment until I was finished breastfeeding because of the drugs involved.  I was slightly crushed, being anxious to grow our family, but also resolute to continue nursing Tyler for a much, much longer time than 8 months (we had a good thing going–lucky us).  In retrospect, I'm very glad we couldn't begin trying again, yet, at that time.  I ended up switching teaching jobs that summer, and things would have been complicated if not impossible had I been pregnant.  So, phew.
I began weaning Tyler when I went back to work that fall, nursing him only morning and night.  It seemed as if we could have managed that forever, but the desire for another baby was growing and I really didn't want to be a Boulder Mom nursing a kindergartner.  So, I picked a busy week at work and nursed Tyler for the last time at the end of October.  He was 14 1/2 months old.  It was much harder for me than for him.  But I felt better knowing we were headed back to Conceptions as soon as my cycle allowed.
As it turned out, we got the green light for IUI on Eric's birthday, November 10th…which was the same day we conceived Tyler two years earlier!  How could this not work out?  Our kids could have the same birthday!  Well, it didn't.  We took a pregnancy test an hour before we flew to Chicago for Thanksgiving, it was negative, and that was that.
Repeat scenario in December.  IUI Round #2.  We took a pregnancy test the day before we flew to Tucson for Christmas.  It was negative, and that was that.  Both of these rounds, I just had a feeling I wasn't pregnant.  I felt crampy and different and had dreams about not being pregnant.  But since we were only allowed/recommended to do three rounds of IUI before moving on to IVF, I just figured it would HAVE to work out by the third round in January. I cried in church one Sunday before Christmas and a stranger came up to me and said that whatever was wrong, it would all be fine next year.  I believed her, because I had to.
Except Southwest Airlines cancelled our flight home from Tucson and we had to stay an extra two days in Arizona.  Which meant I missed a blood test back at the clinic, and therefore we couldn't do IUI in January.  Which was partially devastating but also partly a relief to not have to think about it for a month.  And, the situation allowed me to drink on New Year's Eve and make the clouded decision to sign up for a marathon in May.  I was betting that if I spent the money on a race, I'd definitely get pregnant and not be able to run it.
We did Round #3 in February, a week before my birthday.  It HAD to work because it was our last chance.  I even had an extra trigger shot to increase our chances.  But I had a terrible dream about a strange fertility clinic filled with ex-boyfriends and strangers yelling and pointing at me that I wasn't pregnant.  It was awful.  And again, I wasn't pregnant.  I had to work that day and it was terrible because I could barely hold it together.  That weekend we didn't know what else to do so we did a 16 mile training run pushing Tyler in the BOB.  That kid is a champ and had no idea what it was like for us that day.  Eric was trying to be positive but I felt like somebody died.  Were we really not ever going to have another child?  I had changed jobs, and therefore insurance, and it covered nothing.  Three rounds of IUI ended up costing us practically what IVF would have.  There was no way we could think about that at the time, though.
When I had to call the clinic to tell them I wasn't pregnant, again, I had a moment of desperation when I asked them if we could do another round of IUI.  My reasoning was that I wasn't on Clomid for three consecutive months because we'd taken January off, and that we knew it could work because we already had Tyler.  Much to my surprise, the nurse agreed we could give it one last try.  They would change up my meds and see what happened.
I was good to go on March 7th.  I was so panicked it was hardly even joyful.  Even with the best husband in the world (that's you, Eric) there is nothing romantic about IUI.  It's sterile and silent and kind of sad.  But I didn't have any cramps this time and was hopeful. I had a dream I gave birth, which was encouraging.  I diligently waited until Test Day and there wasn't really a line.  Not really.  I took another test.  Barely visible.  Eric wasn't sure, either. I was hardly convinced.  But I had to call the clinic line or no line, so they told me to come in for a blood test.
I left school to go into the clinic.  There's a song they play on KLOVE called "Sweetly Broken" by Jeremy Riddle.  This song is a decade old at least and they hardly ever play it anymore.  But it plays every time I need to hear it.
The nurse called me back later that day at work and asked for Amy in a distant, distracted voice.  My heart sank until all of a sudden she said, "Hey! Good news!"  I couldn't even stand up.  I called Eric and made him leave a meeting so I could tell him.  He was thrilled, of course.
The clinic has you come back three days later to test again and make sure some numbers are going up.  It was a snow day from school.  Eric stayed home to drive me to the clinic. We were those people, out on the road in a horribly dangerous spring snowstorm with cars sliding all over the road and accidents and emergency vehicles everywhere.  We made it in time for my blood to get out to the lab, but the lab driver wrecked and it all got delayed a day anyway.
She called me again, at work.  The test showed my numbers were going up and everything looked great.  I was officially, finally, pregnant.  I felt great.  We had our first ultrasound on April 12; a blueberry with a heartbeat.  On April 21 tiny leg and arm buds waved at us. On April 29 we graduated from Conceptions, probably forever.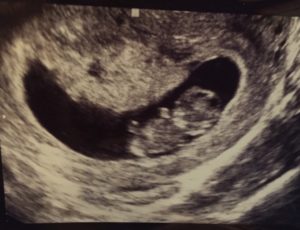 We didn't find out if we were having a boy or a girl.  Life's last great surprise, right?  I didn't run the full marathon, but I did run the half at 10 weeks pregnant.  It was a freezing, snowy May day, and the first night I had ever spent away from Tyler, without Eric.  I was thrilled to be running less knowing a baby was growing.
Tyler, my beloved Baboo Monkey, will be a big brother in just a couple of weeks.  So much is about to change.  But we wouldn't have it any other way…even though it was a heck of a ride to get where we are now.