No, this is not about the baby that's coming in five weeks from yesterday.  Although that's a pretty big deal, too.  This is about two families who love baseball, who raised children who love baseball, who created a toddler whose favorite thing in his tiny little life is a "baseball party."
Growing up in Cleveland with my sports-nut father was a blast.  I had a rabbit's foot I took to Cleveland Municipal to cheer on the Indians (why did I like Cory Snyder?), and later, we had rituals about getting to our seats in section 554 at Jacobs Field.  I remember when the Cavs were royal blue & orange and Brad Daugherty was awesome.  And I thought it was normal that your dad moved an easy chair into the middle of the living room to yell at the Browns waving a Growl Towel while your mom tied dog bones into your pigtails.  I give my mom due credit for allowing and supporting all of this to happen–she's a fan if not a native, but she might also be at TJ Maxx during a playoff game.
When I moved away twelve (!) years ago, it never occurred to me to root for any other teams.  The Nuggets are pretty bad, for obvious reasons the Broncos are off-limits, and the Rockies are National League, so what harm is it to cheer for them at a game or two? Which brings me to my next point.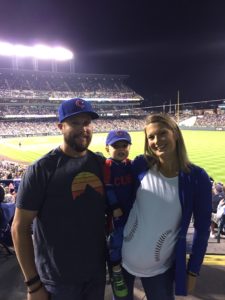 I married a Cubs fan.  A real one.  Eric's parents both grew up in rural Indiana and Illinois rooting for the Cubs.  Eric's sister married a bona fide Cubs fan.  I wasn't sure I'd be allowed in the family (well that and I'm not Lutheran) without pledging allegiance to the Cubs, but because my ties are with the American League, apparently it was OK.
I've been to games at Wrigley Field twice with Eric.  He's been to Progressive Field.  We go to spring training games in Arizona with his parents.  And we've seen many Rockies games, including the Cubs in Colorado.  Eric bought tickets when the Cubs were in town in 2014 for the day after Tyler was due.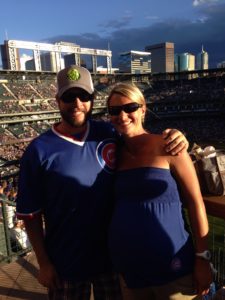 He was right–the baby was late and I spent my last night pregnant downtown, watching the Cubs.  Tyler has been to a game in Cleveland, and two in Denver plus a rain delay where we never even got to see a Cubbie throw a pitch. Tyler loves it.  He yells "home run," "out," "safe," and sometimes just "baseball party!"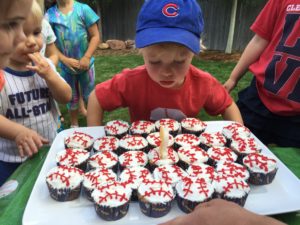 We joked it would never matter until the Indians played the Cubs in the World Series.  It was 2010 when we got married and that scenario seemed really, really unlikely.  Hell-freezing-over-pigs-flying unlikely.
And yet–here we are.  It has been a wild ride.  Eric never roots against the Indians, and I openly cheer for the Cubs.  Until now.  Other than navigating bath time and bedtime for Tyler, we haven't even looked at each other tonight since the first bite of chicken caesar salad, exactly 14 minutes before gametime.  Is it weird that two grown adults who love each other are mostly standing in front of the same TV avoiding eye contact?  We promised to cheer for our own team but avoid being nasty to the opposing team.  So far, it's working.
I'm praying for speedy games because I don't think my blood pressure is good for the baby. And what if Baboo #2 wants to make an appearance during a World Series game?  I honestly don't know.  Although it's been suggested, we are NOT naming our baby JB Holle for Javier Baez.  But Lindor Holle?  That has a nice ring to it…