Tyler has gotten very into helping lately.  He likes to throw away "tash," help unload the "poon" and "fah" from the dishwasher, Swiffer the heck out of the floors, and put his dirty clothes in his laundry basket.  (And yes, he actually does all of those things.)
Tonight, Tyler wanted to help Daddy mulch the yard.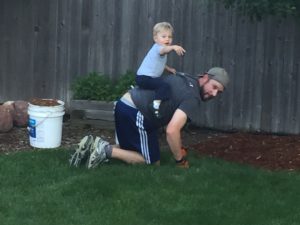 When Daddy was done, Tyler came back inside to the kitchen where I was prepping all kinds of fruit.  I wish we had a Kitchen Helper but since we don't, I just pull up a chair to the island for Tyler to stand on.  (The horror!  He might fall!)
I was taking grapes off the bunch because I like them all to be free and washed–I think it encourages us to eat them when they're ready in the fridge.  (OMG Safety Police yes I still cut them for Tyler.)  Tyler crawled up onto his chair, took a small bunch from the bag, and began plucking them off one by one into the colander.  I couldn't believe it.  I didn't ask him to help or give him any direction–he just watched me and followed along.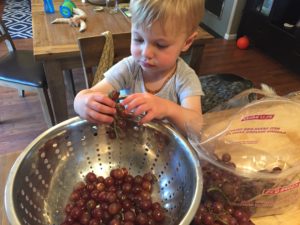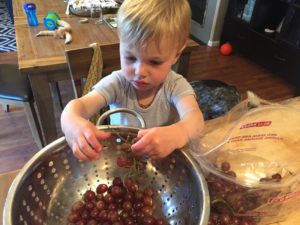 He even noticed if there was a stem still attached to a grape in the bowl, and gently picked it off and set it aside.  I think in the Helping Contest between me and Daddy, I win tonight!