We had heard a storm was blowing in, but we had no idea what Mother Nature was doing out there.  And then I got the only call you want to get at 5am–SNOW DAY!
This was 5:00am.  Not too much accumulation, but the wind was fierce.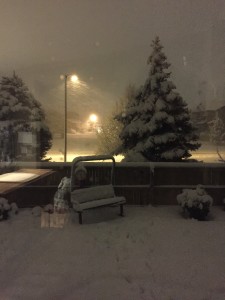 While Eric worked from home, I introduced a new obsession to Tyler: trains!  He had a blast helping build the track and carries Thomas and Rusty around with him everywhere. (Thanks, Michelle, for passing on the train set!)  And he's not yet saying "train" but for weeks has said "WOOO WOOO" when he sees them in books.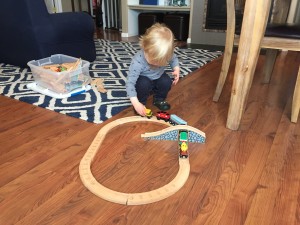 The snow continued until later in the afternoon; then, it was still and not too cold.  Perfect for playing outside!  Daddy went to help Tim shovel out Boulder County, so he missed this fun. I laid out Tyler's snowsuit on the couch with his hat, mittens, and boots.  He climbed up and eagerly spread himself out trying to get it on, patiently waiting for the zipping and velcroing.  He couldn't wait to get out there (like his mommy) but wanted to be prepared (like his daddy).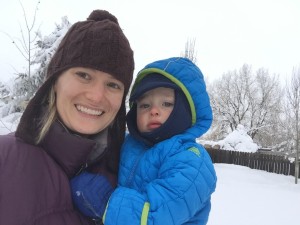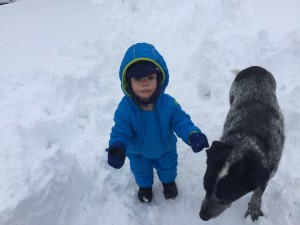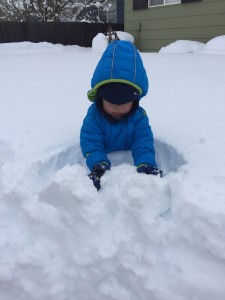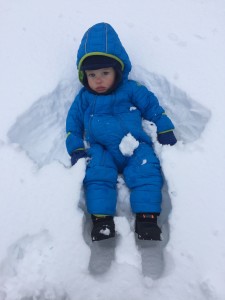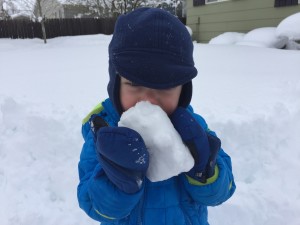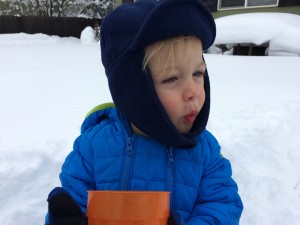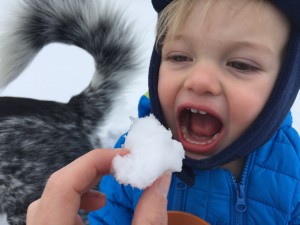 We ended up with 21″ of snow.  It was 72 degrees and sunny yesterday.  So glad we had this blizzard and could spend the day together!