Why?  No, not because Quinoa is flashy. Or the name of a Career Tribute.  But because every time I cook with this wondergrain, it gets everywhere.  Just as you find glitter two days later stuck to the back of your knee, I find uncooked quinoa under the coffeepot. Cooked quinoa glued to the tea towel.  I'm a clean-as-you-go cook.  No messy piles in the kitchen of dirty dishes and open bags of food for me.  So how does this happen?!  How does this tiny grain with its itty bitty blond curls take over our kitchen?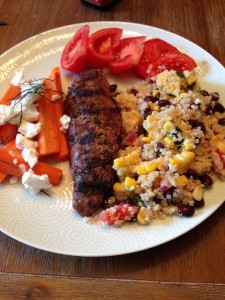 I needed to use up some corn on the cob, so I added it to the quinoa along with a can of black beans, a couple of sad garden tomatoes, wilted cilantro, and a small container of lime juice I squeezed recently for Nojitos.  Also goat cheese, which should have been queso fresco, as if I had that just chilling in the cheese drawer.  YUM.
Oh and Mom, those carrots you can see on the plate are the ones you left here.  Grilled up great with goat cheese and dill!