Eric and I have been extremely fortunate and undoubtedly grateful for the love our family and friends have shown us these last few weeks.  We have had three (!) baby showers, and counting.  It is truly unbelievable how many people have showered us with kind thoughts and generous gifts.  In April, we traveled to Cleveland where my mom threw us our first baby shower.  I sadly don't have any photos from this event, but I think my sister-in-law does and so I will track them down in order to give that party its proper, full-detail, blog post dues.  All I'll say right now is WOW…THANK YOU, MOM.
In May, my lovely girlfriends from Vail hosted a baby shower for me in downtown Denver. We had a delicious brunch and we all got to catch up after being apart for way too long. And we missed those of you that couldn't make it!  Thank you, ladies!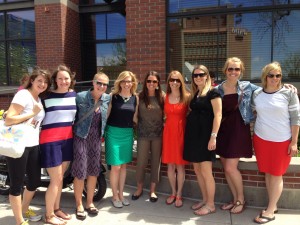 Later in May, my amazing coworkers hosted a baby shower for me after school.  I had no idea how wonderfully crafty they are and how adorably cute the shower would turn out! As we don't know if we're having a boy or a girl, they decorated the party in a gender-neutral black-and-yellow bumblebee theme.  Since donuts have been my favorite part of being pregnant, they made sure to get Krispy Kremes, striped in black and yellow, with chocolate covered pretzels pushed in to look like bumblebee wings!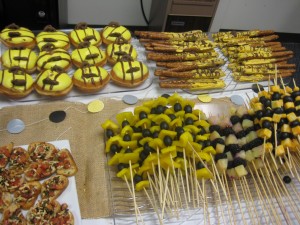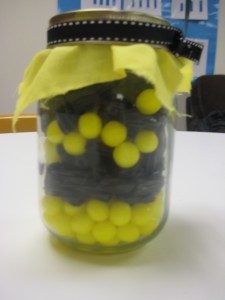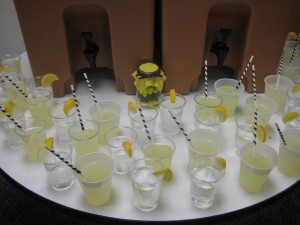 We played some fun games and enjoyed all of the delicious food.  I really couldn't believe the generosity of our staff, either.  The pile of gifts was almost embarrassing (almost!) Perhaps the cutest gift came from the almost-all-male Social Studies department.  In what appeared to be a cupcake box, I found onesie "cupcakes" rolled up with teeny-tiny sock "icing!"  Genius.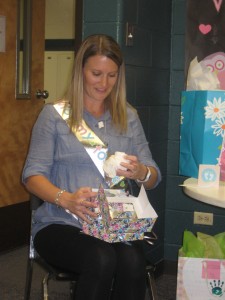 Of course, this shower would not have been possible without these beautiful colleagues: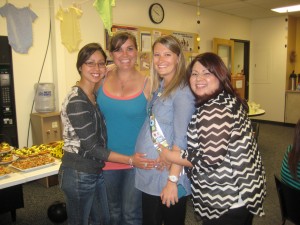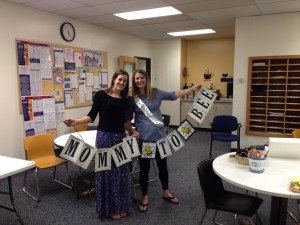 Thank you, thank you, thank you to my awesome special education team for putting this together.  Chandler thanks you, too!