It's Friday night.  The refrigerator is doing a great job keeping the milk and soy sauce cold. We're on a mission to eat in as much as possible.  I did take a pound of ground turkey out of the freezer earlier this week, so there's that.
What else?  Half of a red bell pepper, an onion, 2 garlic cloves, a jar of marinara sauce. Some parm for garnish.  Wait!  What's that behind the pickles?  A container of Manager's Special mozzarella balls, only half-gone.  Score!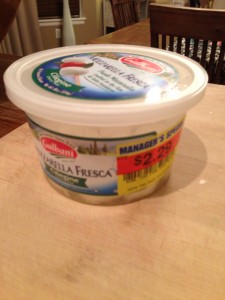 Eric went Paleo in January, but didn't really get strict about it until March.  I am not on the Paleo bandwagon.  Pregnant or not, I'm not giving up Panera bread or cereal.  Or oatmeal.  Or pasta.  But, I try to be a good wife, and I'm the resident cook, so I try to make sure Eric has a Paleo option at every meal.  Mostly he subsists on salads and leftover dinner meats, and he cooks himself bacon and eggs every day for breakfast.
Occasionally I really want macaroni and cheese (Horizon beats Annie's), and he gets what he can find.  But usually I pull through and on nights like tonight we eat something resembling a meal.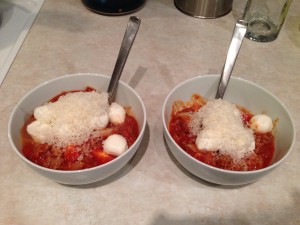 Yes, I know we're really just eating spaghetti sauce in a bowl, but I made it sound fancier than that, right?